A Guide to the European Sustainability Reporting Standards
European Sustainability Reporting Standards (ESRS) are vital to the European Union's (EU) sustainability reporting landscape. It is the obligatory framework for reporting under the Corporate Sustainability Reporting Directive (CSRD).
EU legislation mandates both large and listed companies (excluding micro-enterprises) to disclose information regarding their perception of social and environmental risks and opportunities. They are also required to report on the impact of their operations on people and the environment. Why, you ask? Because these disclosures help investors, civil society organizations, consumers, and other stakeholders to assess the sustainability performance of companies.
What's New in Corporate Sustainability Reporting?
The CSRD entered into force on 5th January 2023 to strengthen the rules regarding social and environmental information reported by companies. The new rules regarding sustainability reporting standards will ensure the following:
Relevant information with the investors and stakeholders to evaluate investment risks stemming from climate change and other sustainability issues
A culture of transparency about the company's impact on people and the environment
Reduced medium to long-term reporting costs by harmonizing the information
Companies subject to CSRD must report according to European sustainability reporting standards. The current first set of draft standards includes the following:
Two cross-cutting standards (ESRS 1 and ESRS 2)
Ten topical standards (5 environmental,  4 social, and 1 governance)
Who Needs to Comply and When?
The CSRD provisions apply to all large companies and listed companies (except listed micro-companies) that meet at least two of the three following criteria:
Compliance with the new reporting standards will take effect between 2024 and 2028, based on the organisation's profile: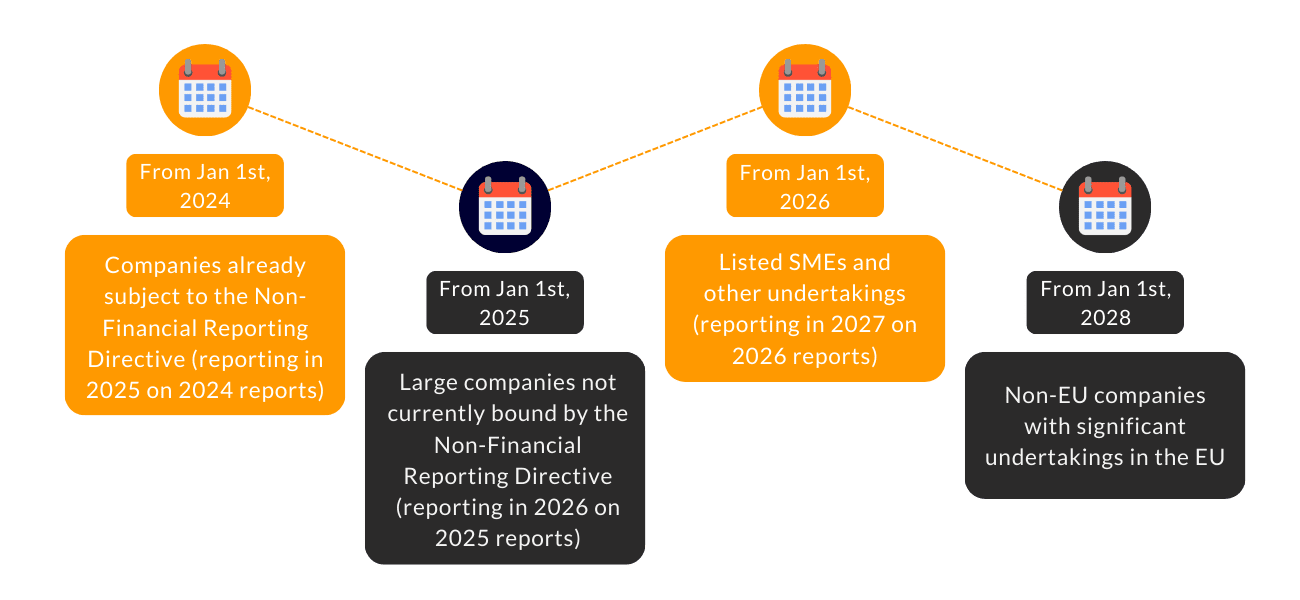 Please Note: SMEs can opt out until 2028 to achieve compliance with the CSRD. 
Rules Introduced by the Non-Financial Directive Reporting
Non-Financial Directive Reporting (NFRD) rules will remain in place until companies have to comply with the CSRD rules. Under the NFRD, large companies must publish information related to the following:
Environmental issues
Social issues and employee treatment
Respect for human rights
Anti-corruption and bribery
Diversity on the company board (regarding age, gender, educational and professional background)
Next Steps
With the components of European Sustainability Reporting Standards falling into place, it is important to be aware of definitions and concepts introduced under new proposals. Early engagement in these standards will help companies save time and resources when compliance becomes mandatory. 
DataTracks is a leader in regulatory compliance reporting with an experience of 18 years. The team of professionals at the company has successfully prepared over 348,000 reports for more than 23,400 clients. So if error-free reports are what you are looking for, contact a DataTracks expert @ +31202253702 or email enquiry@datatracks.eu TODAY!