What Happens If You Don't Submit Your XBRL Financial Statements to CIPC?
eXtensible Business Reporting Language, or XBRL, is a web-based programming language used for business reporting. Financial data can be labelled with preset descriptions using XBRL, making it simpler to compare and analyse.
Companies and Intellectual Property Commission, or CIPC, is responsible for registering businesses and intellectual property in South Africa. Along with their annual returns, some companies, like 
All public listed Companies in South Africa. 
Close corporations – required to be audited.
State-owned companies that report their AFS in the IFRS framework.
Non-profit companies.
All audited Co-operatives in Category C and independently reviewed cooperatives in Category B (voluntary filing).
All Private companies that have declared to audit their AFS in their MOI.
Companies whose PIS is at least 100 and if their AFS is Inernally compiled. 
Companies who hold asserts in a fiduciary capacity with the asserted value exceeding R5 million.
All companies with a PI score above 350 and their AFS are externally compiled.
Should file their annual financial statements (AFS) with CIPC in the iXBRL format.
Consequences of Not Submitting XBRL Financial Statements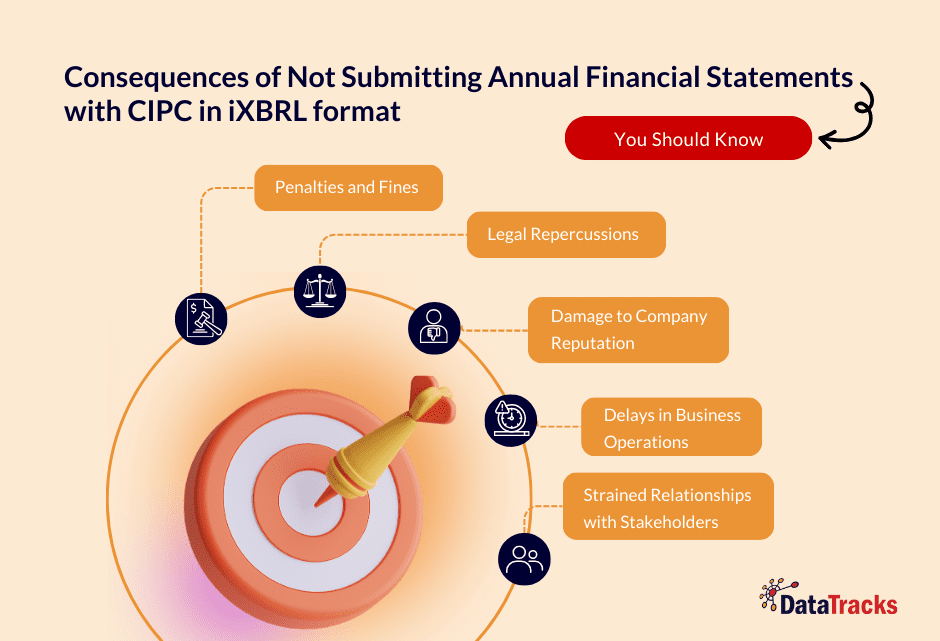 Every year, within the allotted timeframe, all businesses (including external businesses) and closed corporations must file their annual returns with the CIPC. If an organisation fails to do the same, it can face the following consequences: 
Incorrect Financial Analysis: For financial analysts, investors, and creditors to evaluate a company's financial health and make wise decisions, XBRL data is essential. Stakeholders may find it challenging to analyse your financial data if your financial statements are not submitted in XBRL format, which can reduce trust and confidence.
Deregistrations: There may also be a chance of deregistration if XBRL financial statements are not submitted to the Companies and Intellectual Property Commission or another appropriate regulatory entity. A company's deregistration, or removal from the official register, effectively ends its legal existence.
Legal Issues: Once deregistered, your business loses its legal standing, and you cannot legally conduct business operations. This includes being unable to sign agreements, conduct business, or access the company's assets.
Frequent Audits: Regulatory authorities might scrutinise non-compliant businesses more closely, which might result in increased audits or inquiries. This may cost your company money and take up a lot of time.
Company Defaming: Your business may be labelled non-compliant if you fail to submit XBRL financial statements. This may damage your reputation and make obtaining partnerships, funding, or contracts more difficult.
Some financial institutions or investors might demand XBRL-compliant financial statements as part of their diligence procedure. Your ability to get funding or financing may be delayed if you are unable to furnish these statements.
Why Choose DataTracks for XBRL Filing to CIPC? 
There might be severe repercussions if XBRL financial statements are not submitted to the Companies and Intellectual Property Commission before deadlines. At DataTracks, we comprise a team of experts who understand and acknowledge the many challenges you, as an organisation, can face with this advanced process. 
We are here to assist you in simplifying intricate procedures, ensuring precision and punctuality. With an experience of over 18 years, our proficient team has consistently delivered dependable, top-tier reports. For further details, please contact us today at +27 10 446 9061 or email at enquiry@datatracks.co.za.