We are pleased to announce that DataTracks, a global leader in MBRS / XBRL services, will be participating in the MAICSA Annual Conference 2023.
Event Details:
Date: 04th & 05th, October 2023
Venue: The Vertical, Connexion Conference & Event Centre, Kuala Lumpur
Booth No: 24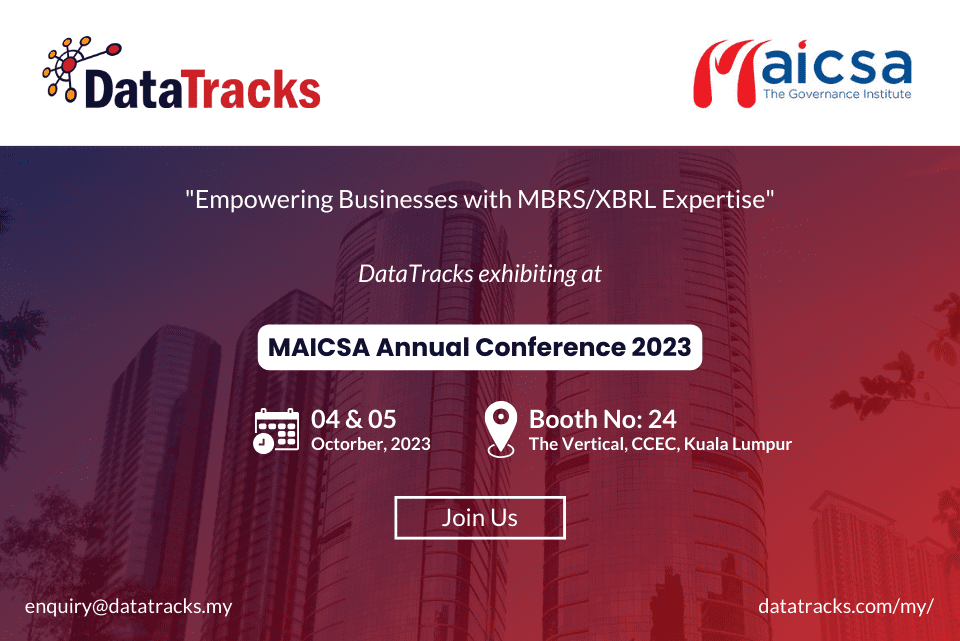 Highlights of Our Participation:
Engaging Sessions: Our esteemed team of experts will elucidate the intricacies of MBRS / XBRL, focusing on its relevance to businesses in Malaysia. Attendees will gain profound insights into industry best practices.

Live Demonstrations: At Booth 24, attendees can experience firsthand demonstrations of our advanced MBRS / XBRL solutions. Discover the capabilities designed to cater to the specific regulatory requirements of Malaysia.

Networking Opportunities: This conference presents an invaluable opportunity to connect with industry professionals and leaders, facilitating the exchange of knowledge and collaborative ventures in compliance reporting.

Q&A Sessions: We understand the complexities of MBRS / XBRL compliance, especially in the Malaysian context. Our interactive Q&A sessions are designed to address these intricacies, providing clarity and guidance.

Exclusive Offers: Conference attendees are entitled to special discounts on our MBRS / XBRL services. This is an opportune moment to enhance your compliance reporting infrastructure.

Giveaways & Prizes: We invite attendees to visit our booth for an opportunity to receive exclusive giveaways. Our aim is to augment your MBRS / XBRL reporting journey.

Engage with DataTracks: Follow the conversation surrounding the conference with the official hashtag: #DataTracksAtMAICSA. Stay updated on our latest offerings and insights tailored for Malaysian businesses.
We cordially invite all interested parties to join us at the MAICSA Annual Conference 2023. Your engagement will enrich the discourse on the evolving landscape of regulatory compliance. We look forward to your esteemed presence.
Event Details:
Start Date : Wednesday, October 04, 2023
End Date : Thursday, October 05, 2023
Time: 9:00 am to 5:15 pm
Location : The Vertical, Kuala Lumpur