What is a SPAC?
2021 saw a meteoric rise in the number of IPOs, which was largely due to the influence of the increase in the number of Special Purpose Acquisition Companies (SPACs) that went public in the same year. In 2021, US witnessed 1035 companies going public with their IPOs, whereas, in 2022, the number of IPOs dropped to 181. 
"Money looking for a promising private company to invest in" is the best way to describe a SPAC. It is a public company that has already gone through the IPO process and is also commonly called the "blank cheque entity."
SPACs are gaining popularity as a popular vehicle for companies seeking to go public. They are blank-check companies formed to acquire or merge with an operating company within a specified timeframe. 
Workings of SPACs
A group of investors who raise capital through an IPO come together to form a SPAC. The funds raised from the IPO are placed in a trust account until they identify an operating company to merge with or acquire. After identifying the target company, the SPAC, and the target company negotiate. If they agree to merge, the SPAC uses the funds in the trust account to acquire the target company. The natural consequence of this merger is that the operating company becomes publicly traded.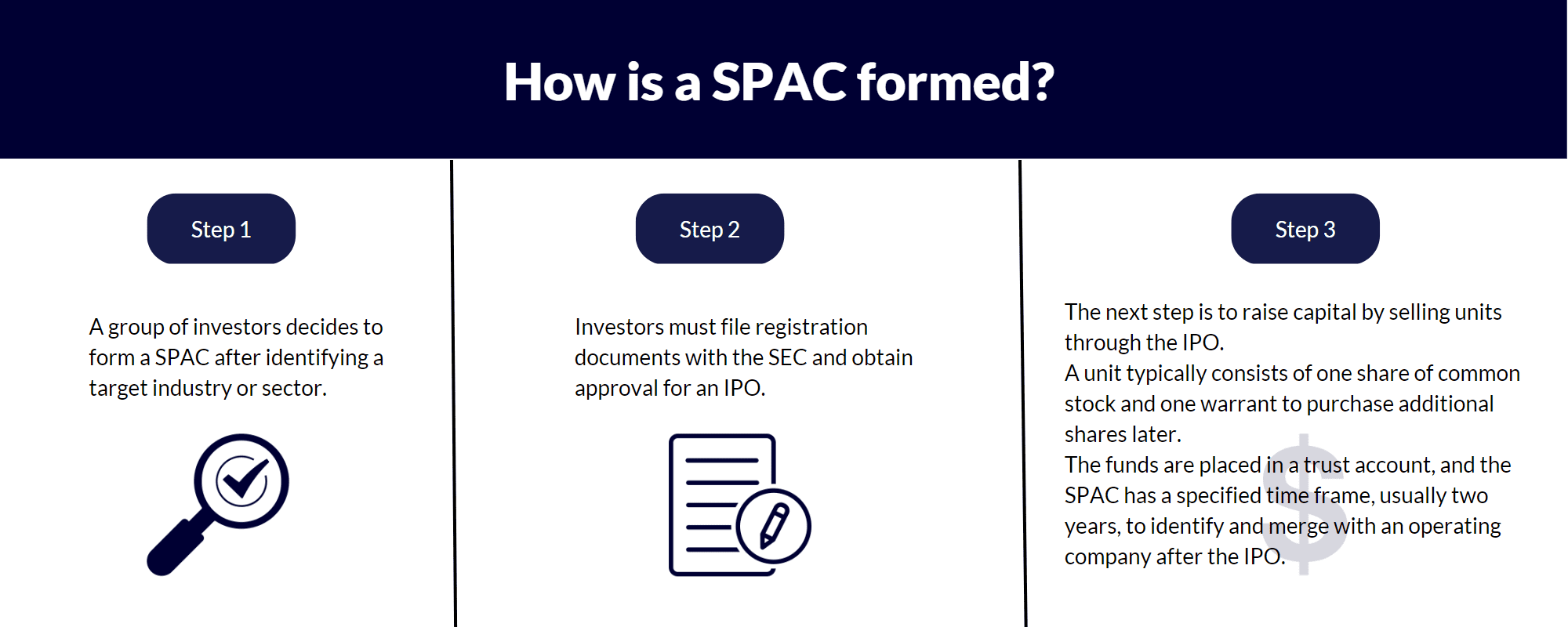 Publicly traded SPACs
A private company's management is its everything. The magnitude of control the management wields on its operations is immense. But raising funds from investors is an arduous task. To access funds from regular investors, the general public, firms go public by offering stock shares at a certain price. As a result, these firms often have more capital to work with. However, publicly traded companies are subjected to regulatory scrutiny and disclosure requirements.
Thus, Immediately after a target company is identified and agrees to a merger, the operating company becomes a publicly traded company. The operating company can now raise capital through secondary offerings, and its shares can be sold on public exchanges. The SPAC's investors can then decide to redeem their shares for cash or continue to hold their stakes in the newly merged company.
DataTracks provides regulatory reporting solutions that help prepare accurate compliance reports in iXBRL formats and HTML and XBRL to file with the SEC. DataTracks' services allow for seamless filing with the SEC. DataTracks also provides Fully Managed Services catering to end-to-end filing necessities. All you need to do is share the finalized data that will be formatted and tagged to suit the requirements of the compliance guidelines.